About Us
Beautiful Villas in The Heart of Tuscany!…
As good as it gets…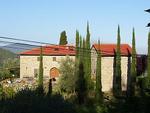 Just 18 miles outside of
Italy's treasured city, Florence, is the estate,
in the lovely suburb, Londa, in the province of Florence.
The local village, Londa, has
history that dates it to Etruscan and Roman times. Small towns nearby are
filled with historical works of art. This is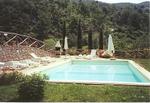 where
the Medici family had their country villas and where the Renaissance was
born. Most important of all is the close proximity of Florence and all of
its treasures. Less than three miles away is a commuter train which runs
18 times a day connects you to the Main train station in Florence in only
35 minutes.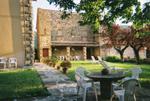 Day trips to the hill towns
of Tuscany such as Lucca, Siena, San Gimignano, Pisa, Bologna and dozens
of other destinations are all within an hour's to an hour and a half drive
for daily adventures.
Nicely spaced and privately located along paved roads on the estate are
350 year old villas – Villa
Paterno with Adorno,Bellina,Carina,& Dolcetta Apartments and
Villa Poggiolo
With Giotto,Leonardo,Dante,& Donatello Apartments , Plus the freestanding
three level Townhouse Michelangelo. Villa
Antica with two apartments is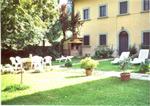 next
to the main estate villa, and two more are within the walls of the
large main villa,
in separate wing locations.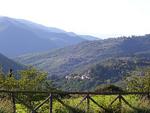 All
of the villa have been recently restored with redesigned interiors
by a famous Florentine architect, creating spacious, private apartments
while maintaining the classic Tuscan character of the homes, both inside
and out.
Each villa has its own pool, private terraces and barbecue. Contact – Tel. 440-543-1178